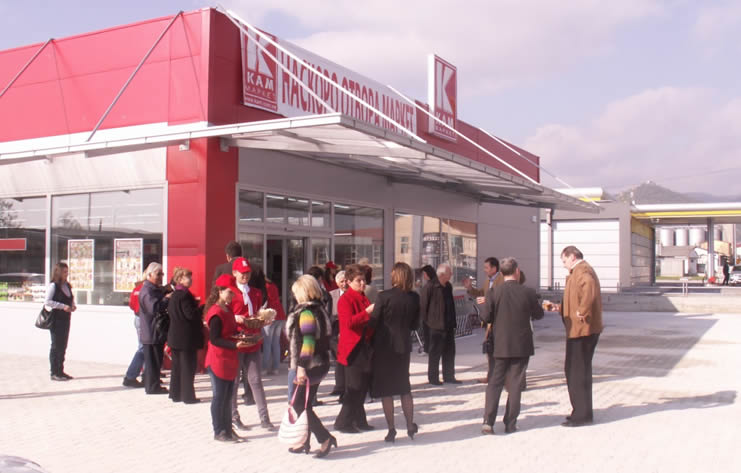 We focus on the most significant
Our hard-discount principle allows us to provide supreme quality products at the lowest possible prices. This value emerges from the increased efficiency we have introduced at every level of our operations.
In KAM market consumers will find products that offer greatest benefit and best possible quality at constantly low prices. It is a principle of crucial importance for us.
KAM market's discount principle focuses on the following essential success factors:
Limited product assortment
Considering the offer we gather worldwide, we comprise a careful choice of products for our customers. Our standard product assortment provides basic everyday products and high quality discounted products every week. The rapid sales of goods guarantee their freshness. The limited offer of goods and their accessible presentation which is the same in all the stores, create advantages in price. In this way we can offer our customers a permanent and most favorable price-quality ratio.
Stores
Our stores are with modest size, unpretentious and simple, with sustainable features, distinctive design and identity that fits into the environment, bearing in mind the long-term savings. All this contributes to capture the essence of economy and customer savings. Our markets are simple and concise; the products are displayed on shelves in cardboard boxes, which save time and personnel for stacking and replenishment of inventories.
Internal distribution network rationalizes operational processes and dramatically increases efficiency, resulting in greater savings for our customers.
Uncompromising quality
Consistent quality orientation ensures our breakthrough in competitiveness. Together with our suppliers, we continuously develop our offer of high quality products for our customers. Our constant internal quality control and ongoing additional controls in independent testing laboratories permanently ensure the quality of our goods.
High quality private brands
KAM market consistently focuses on the expansion of his own brands such as "Alpiko", "Fiesta", "Kamko" "Rio", "Casa KAM" "Dentomed" "Milord" "Lalin", "Blue Sea", "Vita","Solis","Bella Farm" and others. With our own brands we offer better prices and better quality control.
Responsible management
Our management is characterized by high responsibility and great competence in decision-making. The simple processes and flat organizational structure allow quick decision making. They are fundamental for the effective operation with cost awareness and prompt action.
We establish best possible prices
Careful and efficient management is part of the daily operations in KAM market. With implementation of our cost saving system we provide an honest and fair pricing policy on behalf of our customers. On each occasion when the raw materials are reduced, we reduce our retail prices for the benefit of our customers.